Ross McLennan
Operations Manager, Hidden Valley Cabins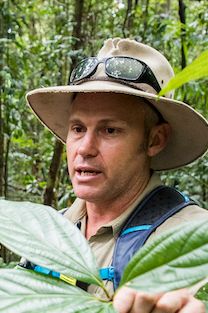 Abstract
How to Propose a Walking trail in Queensland
Following on from the 2018 Global Eco Conference and David Edwards presentation "Queensland Ecotourism Trails: A Chief Executive's insight". Ross McLennan from Hidden valley Cabins and the three traditional owners groups from the region north of Townsville between Paluma and Wallaman Falls formed a working group to promote the idea of a 125 km walking between Paluma Village in south to the iconic Wallaman Falls in the north. Working in partnership, Ross and the Traditional owner groups, Nywagi in the South, Gugu Badham to the west and Warragamay to the north successfully approached the three local government areas the trail would pass through and where successful in getting some seed funding to engage a professional trail builder to see if the proposal was indeed achievable. A working group comprising of local government representatives, local Mayors and councillors, Traditional Owners and industry successfully promoted the trail to the State Government and the project is now being promoted to senior government officials and ministers. This presentation will show how this project went from an idea at a conference to high level talks within 12 months and this importance of involving all parties at a very early stage.
Presenting with Thomas Holden.
Biography
Ross McLennan grew up in a small family tourism business 103 km North West of Townsville called Hidden Valley Cabins. This family business has been owned and operated by the McLennan family since 1986.
After growing up in a remote location the world called and Ross travelled abroad for 4 years, living in England and Canada were he met Chelsea. Returning to Australia in 2006, Ross and Chelsea joined the family business with a vision of niche marketing, expansion of a range of quality products with an environmental theme. That vision proved to be very successful both financially and environmentally.
The resort has also under gone major operational changes. Due to the remote location, Hidden Valley has no town amenities and is totally self-sufficient. In December 2007, Hidden Valley Cabins switched off the diesel generator and moved to an environmentally friendly power source, Solar. Since then the entire resorts electrical needs has been supplied by the sun, saving the resort up to 26000L of diesel and 78 tonnes of C02 per year. In 2011 Hidden Valley Cabins also added an additional 3 deluxe cabins to keep up with demand.
Hidden Valley Cabins now hosts over 1000 international secondary and universities students a year on faculty lead study abroad programs.
The resort has also won numerous awards including the Australian and Queensland Tourism Award for Hosted Accommodation and was recognised for Excellence in Sustainability and a Certificate of Recognition from the Queensland Premier, Anna Bligh for Outstanding Leadership in Environmental Sustainability.