Matthew Fowler
Member, Lithgow Environment Group & Colong Foundation for Wilderness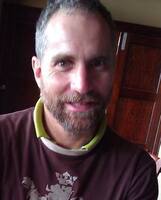 Biography
Matthew Fowler has a passion for working with First People nations and ecotourism.
Recently Matthew has been working with Gweagal and Bidjigal Elders' commemorative 2020 celebrations of 250 years of resistance. As well he has assisted Western Sydney University Lithgow campus vision - 'Gateway to Wiradjuri'. This has involved working with Wiradjuri Elders and the Gardens of Stone Alliance's 'Destination Pagoda' ecotourism vision.
Matthew Fowler has worked closely with the Institute for Aboriginal Development, Alice Springs; Mindibungu Aboriginal Corporation, Northern Territory; and Billiluna, Western Australia. In 1996 he was awarded the NAIDOC Non Indigenous Person of the Year for Central Australia co-recipient. He has also worked as the Proprietor/Manager of Todd River Tours, Alice Springs (1995–2004); been an interpretive guide for the Alice Springs Desert Park (2000–2002); and an eco tour guide for Uluru Experience, Yalara, Northern Territory (1992–94).