Mark Evans
Director of Marketing & Public Relations and Co-Owner, Paronella Park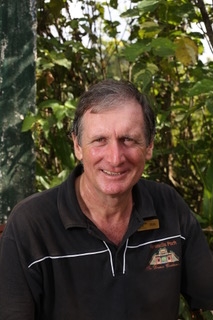 Biography
Director of Marketing & Public Relations, and co-owner of Paronella Park for 26 years.
This multi award winning attraction is Heritage listed and has Advanced Eco Certification.
It has Queensland's first river driven Hydro Electric Generator, originally commissioned in 1933, and refurbished in 2010. It now provides most of the power to the Park.
This year will see Electric Vehicle chargers installed, powered by Hydro Electricity.
Mark's background before Tourism was in the computer industry.
He joined General Electric (USA) in 1976, managing sales teams in most capital cities before a six year stint in Singapore as Managing Director, SE Asia.
Mark's involvement in the Tourism Industry includes Cassowary Coast Development Bureau (including Chairperson), Great Green Way, Tropical Coast Tourism, founding chairman of Canecutter Way, and ten years on the board of TTNQ as Southern Region Director.
Currently, Mark is a committee member of Townsville Enterprise Strategic Advisory Committee, committee member of Friends of Ninney Rise in Mission Beach, and has rejoined the board of TTNQ, where he is involved in a number of sub-committees.