Bruce Elliot
General Manager Reef Engagement, Great Barrier Reef Marine Park Authority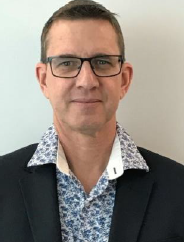 Biography
Bruce Elliot has over 30 years' experience with the Commonwealth Government across three portfolios, including over 12 years' experience as a senior executive.
Bruce has been with the Great Barrier Reef Marine Park Authority (the Authority) since September 2008, most recently as the General Manager Reef Engagement, a position he has held since 1 November 2017. He was previously General Manager Biodiversity Conservation and Sustainable Use and General Manager Corporate Services.
Prior to joining the Authority, Bruce was an Assistant Commissioner with the Australian Taxation Office, where he was responsible for capability leadership of Intelligence and Risk and the provision of support to compliance programs.
Prior to joining the APS, Bruce served in the Australian Army for 20 years retiring as a Lieutenant Colonel in 2006. Bruce's career highlights with Defence included two operational tours, command appointments, and overseas posting to New Zealand, Indonesia and the United States of America.
Bruce holds a Masters of Defence Studies, a Bachelor of Professional Studies and an Advanced Diploma in Indonesian Language.